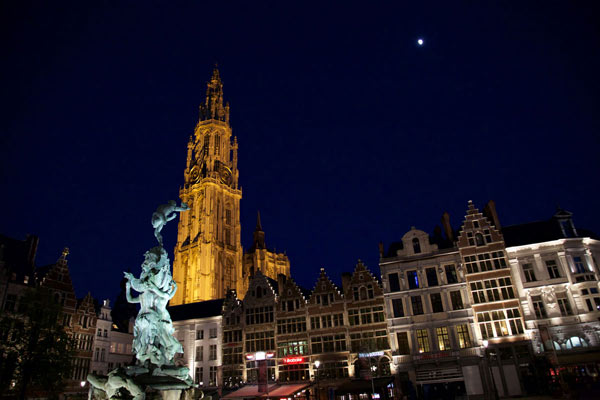 How many people can say that their jeweler flew half way around the world to hand pick the diamond that symbolizes their love? An amazing diamond comes from an amazing place; Antwerp, Belgium -- the Diamond Capitol of the World.
Each April and October Mark travels over 4,000 miles to hand select diamonds in Antwerp, Belgium for our customers back in Maple Grove. With his connections overseas, Mark is able to cut out the middleman, and save money in the process. With this elite service, Mark hand-selects diamonds to meet the exact specifications of each customer and passes his savings on to you. In Antwerp Mark goes directly to the best diamond cutters in the world and carefully examines hundreds of diamonds before hand selecting those with the most brilliance and sparkle. We proudly comply with the Kimberly Process, which prevents conflict diamonds from entering the diamond trade, and by doing so, we are able to import conflict-free diamonds into the United States. From the earth, to the cutter, to you–no previous owner, no stops along the way, your Antwerp diamond is truly a one-of-a-kind gem waiting just for you.
For a more in-depth reading check out our blog post: How I Choose Diamonds In Antwerp
Mark leaves October 23, 2019 and is now taking pre-orders from customers who want a hand selected, beautiful diamond at the best price.
Antwerp Diamond Testimonials
"Mark and his staff were fantastic! Through every step of the process we were updated by a phone call or text. Working with Mark was a pleasure. For him, it's not work so it made the whole task enjoyable from design selection to his trip to Antwerp to purchase the diamond to prototype to final completion. Everything was efficient, educational and so enjoyable!" - Ruth W. December 2017
"I received the ring. It's stunning. Thank you again for your design and for the time invested in selecting the right stone in Antwerp. She will love it! All the best." Robert M. November 2017
"The level of customer service and the shopping experience at Mark Michael Diamond Designs is very impressive. Mark Lauer produces very high end custom jewelry which is second to none. The diamond earrings I just purchased for my wife are amazing, and I can't wait to give them to her for Christmas. Mark Michael Diamond Designs is an absolute must stop for all of your jewelry needs. Thanks a lot!" Randy K. December 2017
Contact Mark Michael Diamond Designs about your Antwerp diamond today: